5 min read
Jun 2, 2017 11:49:00 AM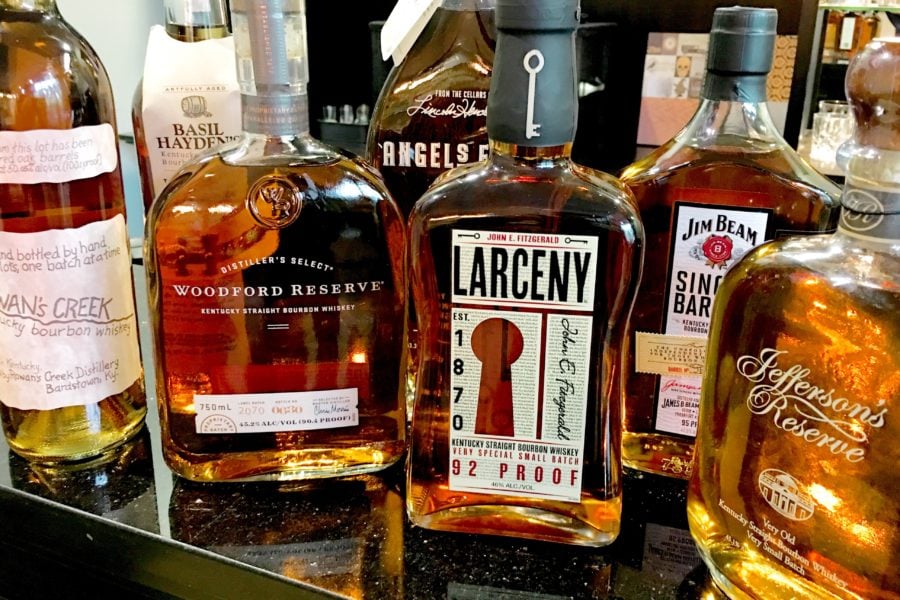 Larceny Bourbon - a new favorite?
First of all, let it be said that this blog article is for fun — I hope it inspires your next gathering of friends, neighbors or co-workers!
Several of us Sparkies recently discovered Larceny, a relatively new brand on the bourbon scene although rooted in history. It's been a favorite of mine for sure. Inter-office "who found the best price on Larceny" has been going on for months now and with all the Sparkhound Larceny fanfare, we decided it was time to know if this amber bottle of deliciousness really is all that great. Is it really our favorite?
Planning the Bourbon Tasting
This test was to be highly scientific because after all, we are bourbon experts. Connoisseurs even! Actually, the only thing that qualifies us to "test" bourbon is our ability to drink bourbon which technically, is scientific.
Things to consider when planning a bourbon tasting:
Keeping the tasters' palette cleansed between tastings is critical. We provided a selection of tasty but relatively mild charcuterie, cheeses, bland crackers, yogurt pretzels and the best tortilla chips in the world: Sweet Potato Tortilla Chips from Trader Joes. Cups of water were also available.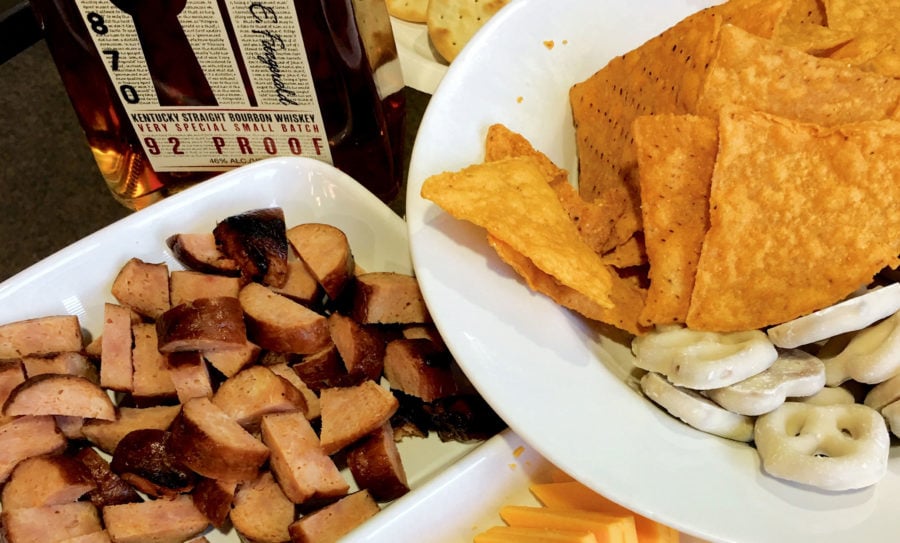 A selection of 8 bourbons. Expert opinions differ regarding "how many" bourbons (or other beverages) to include in a test. We chose eight because it provided variation and helped "hide" some of the crowd favorites like Angels Envy and Woodford Reserve in the field.

The scorecard was slightly challenging. How do we "scientifically" rate bourbon – something inherently subjective and personal? I combined insights from other tasting hosts and came up with this (Download the Template). Much to my surprise, the tasting was more controlled, scientific, and the results more consistent than I would have expected... more on that later. Here's the scorecard: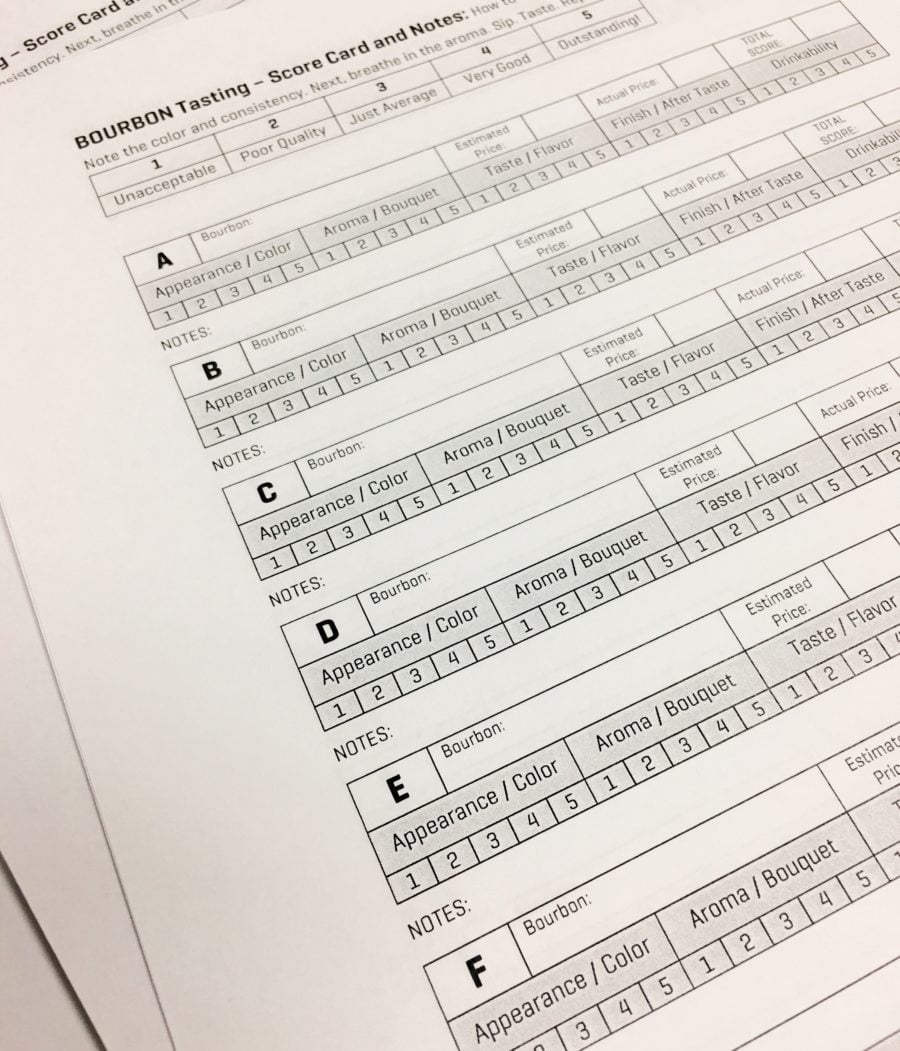 Conducting the Tasting
We had eleven people in attendance so after explaining the scoring process, I went to the next room to pour the first two flights of bourbon: A & B. Here's a tip, pre-label all the cups and arrange your bourbons in order of pour – out of sight from your attendees though. I marked each bottle on the bottom A - H. Each pour was less than a 1/4 shot.
The group commented with the first flight that they wished they could taste them all at the same time for comparison sake. It became abundantly clear that this was not going to be an issue however. Each bourbon, we realized, stands on its own merits.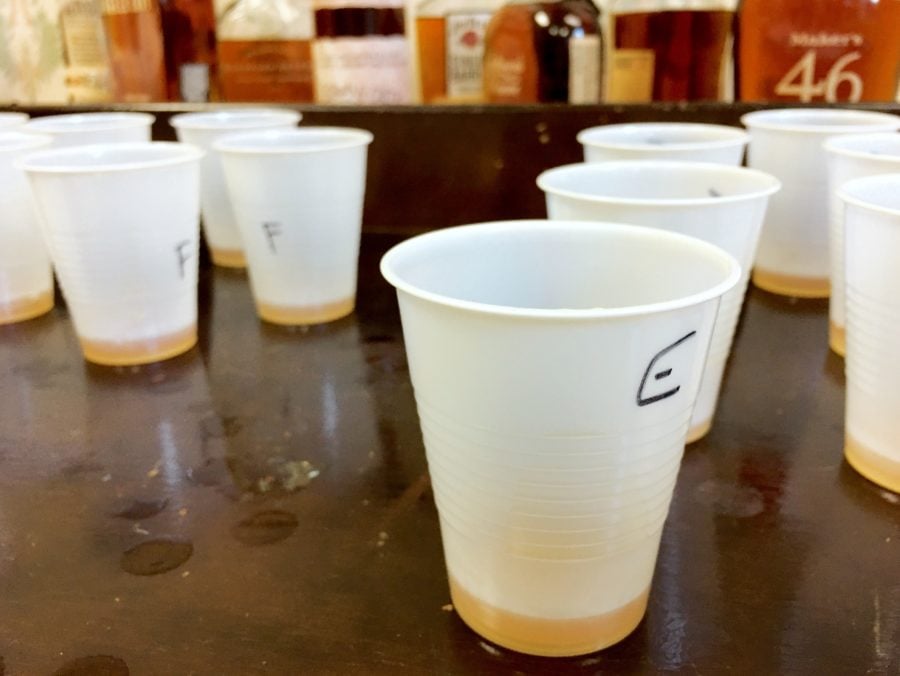 The Unexpected Results!
I wanted Larceny to win but it did not. Here's the breakdown:
Makers 46 ($35) - this was the surprise of the day. Not that we're too snooty to drink something as common as Makers Mark but this is Makers! Or a higher-end variation at least. For nearly everyone in the room, Makers 46 was an immediate favorite. It lead the pack in Appearance / Color and Taste / Flavor categories. Total points: 210

Angel's Envy ($51) - Not as surprising as the revelation known as Makers 46 was E's true identity: Angel's Envy. It's pretty great and again, received loads of praise during the test. It lead in two of the most important categories: Finish / Aftertaste and Drinkability. Total points: 209

Larceny ($26) - this is where the pack began to separate. Larceny received its fair share of positive reviews during the tasting but as the data illustrates, its not the crowd favorite we thought it was. It did achieve something remarkable however: Best Value ($0.14 price per point). Total points: 191

Rowan's Creek ($34) - if there was an award for most interesting and complex flavor profile, Rowan's was the clear winner. Heck, I'm making the award official right now: Rowan's Creek, winner, most interesting flavor! Total points: 181

Basil Hayden ($36) - I like this bourbon. I love its classic vibe and packaging and it was a close follower to Rowan's Creek in all categories. Interestingly, it lead the Aroma / Bouquet category... consider that for a moment. The fifth place whiskey had the best aroma! Total points: 179

Woodford Reserve ($28) - this one surprised me because we all like to think we like Woodford Reserve. There's just something about it right?! Not so much with Total points: 159

Jim Beam Single Barrel ($38) - somebody had to be the renegade by bringing an Americana staple and thus, Beam. To be clear, a more upmarket Jim Beam at almost twice the cost of regular. I gotta say, while it didn't score high, I didn't mind it. Not a great review though - "I didn't mind it." Total points: 145

Jefferson's Reserve ($50) - this whiskey was the shocker of the day. It brought everyone in the room to their proverbial knees. We hated it. It tasted chemically. Some people joke about whiskey tasting like paint thinner - this is where that joke started. Some of us think we picked up a bad bottle because several bourbon experts really like Jefferson's Reserve. It won the worst value award ($0.42 per point) Total points: 119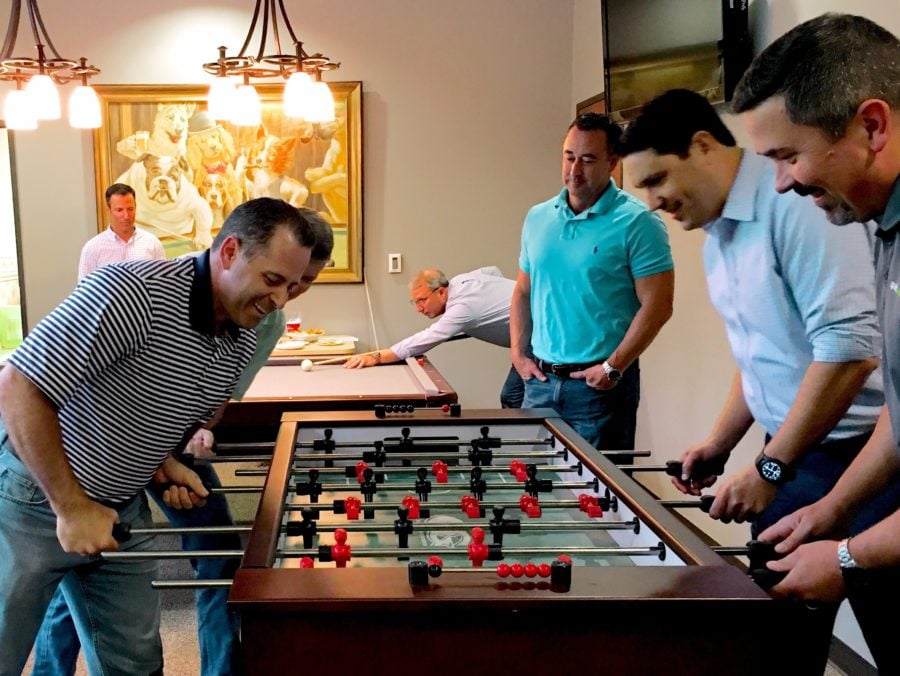 Is it 5 o'clock yet?
This event was a blast. We were all able to try a new bourbon or two and discovered new personal favorites. There's already discussion about our next tastings... a Rye whiskey tasting is on the horizon. A brandy and cognac tasting... a liqueur tasting... a Scotch tasting....
Get the Templates for Your Own Event:
Download the Bourbon Tasting Scorecard Template
Download the Results (raw data from spreadsheet)


---
Information and material in our blog posts are provided "as is" with no warranties either expressed or implied. Each post is an individual expression of our Sparkies. Should you identify any such content that is harmful, malicious, sensitive or unnecessary, please contact marketing@sparkhound.com